From horseshoe-shaped harbours and floating chapels to cloud-capped monasteries and milky-blue bays, these are the most romantic Greek islands for a honeymoon.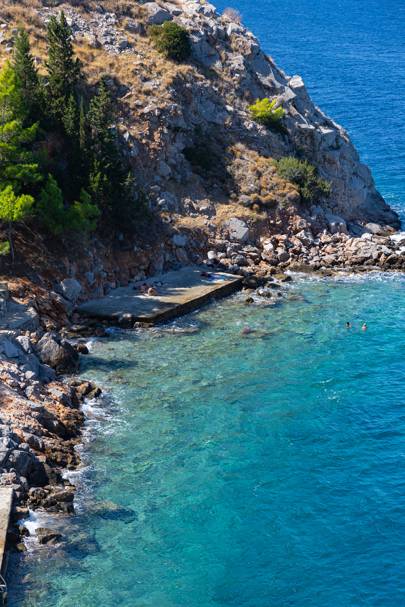 1. HYDRA
Leonard Cohen met his Norwegian muse, Marianne Ihlen, on the isle of Hydra. Countless poets, artists and bohemians have fallen for this craggy, car-free island, whose austere landscapes have barely changed since the 1960s. The ultimate bon vivant, Henry Miller, declared it 'aesthetically perfect' and, because of strict preservation orders, it still is; the horseshoe-shaped harbour is immaculate and very few buildings speckle the coastline. Bougainvillaea petals fall like confetti in the whitewashed lanes, kittens lounge in the courtyards of centuries-old houses, tiny restaurants and shops full of colourful trinkets huddle together in nameless alleys. Days drift by, as you dive off sun-baked rocks until the sun slinks behind the hazy outline of the Peloponnese.

Best hotels for couples on Hydra: Bratsera, an old sponge factory brimming with antiques, or the quiet, charmingly unfashionable Miranda, a 19th-century sea captain's mansion.Find out more about Hydra: the boho, go-slow island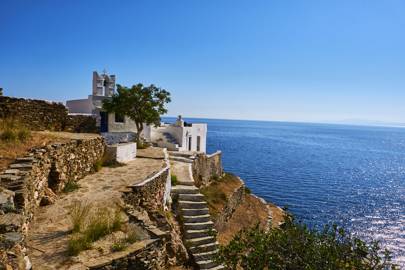 2. SIFNOS
With its 'floating' chapels and cloud-capped monasteries, Sifnos is where affluent but unflashy Greeks go to get married. There are few more photogenic backdrops than Chrissopigi, a monastery that straddles a rocky promontory; the tiny church of the Seven Martyrs, marooned at the bottom of a winding stairway carved from the cliff; or Saint Symeon, which, with its 360-degree views, is a prime perch for sunset. Coastal trails lead from one alluring cove to another, where you can feast beside the sea on some of the tastiest food in Greece – from old-fashioned tavernas such as Manolis at Vathi to red-hot Cantina in Seralia, a new entry from the boundary-bending chef of Omega 3 fish bar on Platis Gialos beach.

Best hotels for couples on Sifnos: At the end of a dirt track, with infinite views of the horizon and the starry night skies, Verina Astra combines peaceful isolation with pitch-perfect service – check out our full Verina Astra review. And the suites at Kamaroti, surrounded by olive groves and lush gardens, are a quirky blend of mid-century and Mediterranean.
Find out more about Sifnos, the Greek island with a sizzling food scene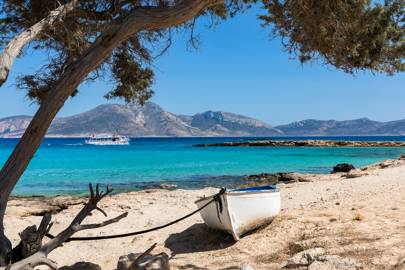 3. KOUFONISIA
The milky-blue bays and sugar-cube cottages of Pano (Upper) and Kato (Lower) Koufonisi have been lighting up Instagram of late, driving a surge of visitors to these teeny island twins (Koufonisia is actually made up of three islands). Hip beach bars and sexy new villas have popped up in their wake, but the vibe is still very much laidback Cycladic – especially on Kato Koufonisi, where there's nothing but a chapel, an abandoned hamlet and a single ramshackle taverna. Part of the Small Cyclades archipelago, Koufonisia's islands aren't easy to reach. Skip the queasy, high-speed catamarans and take the vintage Skopelitis Express from Naxos or Amorgos: the slow ferry journey is a gentle transition to simple island life. At the port, water taxis roll over the waves to limpid, shallow bays, but it's easy to wander around the flat, almost treeless landscapes in search of your own private beach. Porous cliffs and caves create natural swimming pools just big enough for two.

Best hotels for couples on Koufonisi: Eros Keros, four sea-facing villas decorated with understated finesse.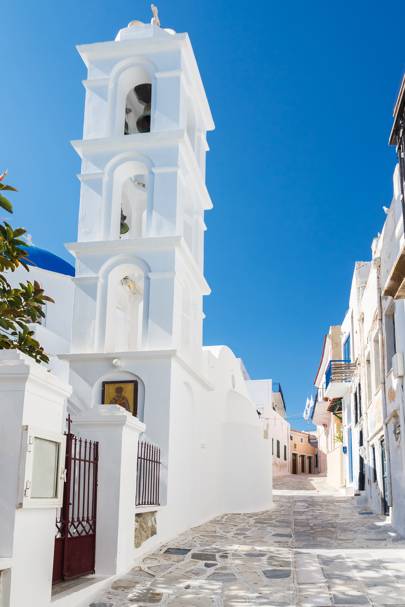 4. TINOS
If you are into foodie treats, Tinos will set your heart racing. Caper fritters, slow-roast goat with wild artichokes, smoked-eel bruschetta and rabbit with lemon confit are some of the dishes you might share at the island's pretty, surprisingly sophisticated tavernas. The local wines, grown at high altitude in the mountains, are also exceptional. With dozens of dazzling, whitewashed villages hidden in valleys and tumbling down hillsides, it's easy to escape the summer crowds and ferocious meltemi winds. Marble birds, flowers and mythical creatures decorate every doorway; this poetic island has a long tradition of sculpture. 

Best hotels for couples on Tinos: Bergerie Marguerite, a wildly remote cottage restored with effortless Parisian flair by French winemaker Jérôme Binda and his ceramicist wife, Sabrina. The colourful and unconventional Xinara House, a former bishop's residence and blacksmith's forge cleverly revived by two British designers.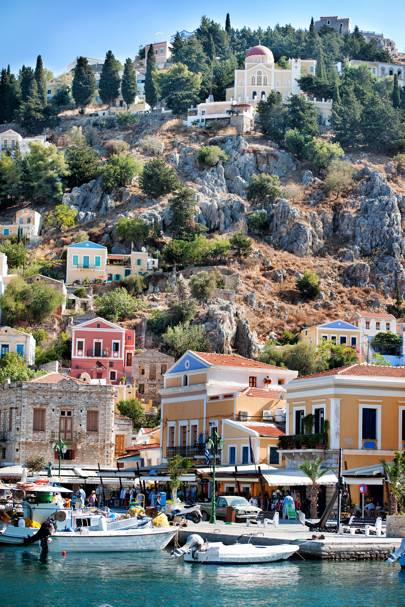 5. SYMI
Sailing into Symi's harbour is love at first sight. Wooden gulets and jaunty fishing boats sway before an amphitheatre of mansions in a perfectly graduated range of pastels. Bathed in a peachy glow, the scene is glamorous, relaxed, redolent of lives well lived. Sea taxis ply the deep-blue waters, dropping couples off at dramatic bays with a few tamarisk trees for snoozing in the shade. There are precious few hotels; if you're very lucky, you'll score a week or two at one of the historic houses flawlessly restored by local architect Dimitris Zographos. Beg him for details. 

Best hotels for couples on Symi: Aliki Hotel, a nostalgic waterfront landmark, where the best rooms have French windows framing the sea. On the Rocks, a boxy white cube so close to the water you can practically roll out of bed and plunge into the sea.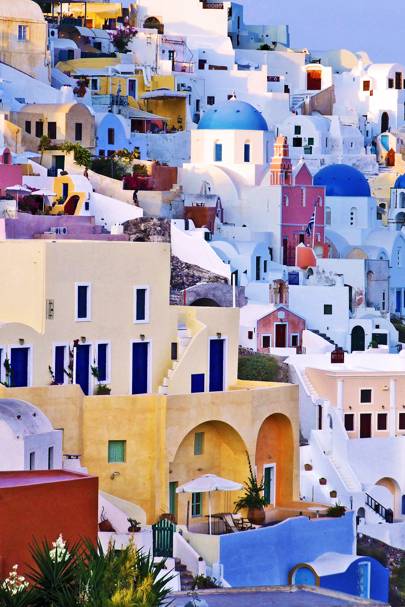 6. SANTORINI
This island is synonymous with honeymoons. There are more suites, hot tubs and one-table restaurants lined up along the flooded caldera than houses, and more couples posing outside domed chapels than parishioners. Despite the crowds and commercialisation, the place's metaphysical allure is largely undimmed – as long as you can avoid the day-trippers disgorged from cruise ships at certain times of day. Off season is the best time to visit the black volcanic beaches, haunting antiquities and superb wineries; April, May and October are also good months for hikes and less stratospheric rates at the leading hotels.

Best hotels for couples on Santorini: The Vasilicos, the summer house of an art collecting bon viveur converted into seven suites, all with spectacular views and airy interiors. And Vora Villas, a stack of three contemporary cave houses teetering above the volcanic precipice.
Read more about the best things to do in Santorini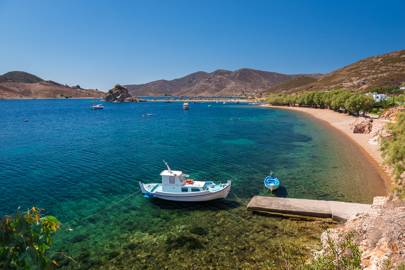 7. PATMOS
Greek pilgrims come to kiss the icons at the Byzantine Monastery of Saint John or to revisit his lurid revelations in the gloomy little Cave of the Apocalypse. But Patmos also attracts legions of stylish lovers. A cosmopolitan crew of American fashionistas, Italian interior designers and British novelists return year after year for the quiet beaches (almost all blissfully void of sunbeds), soulful atmosphere and majestic medieval capital of Chora – by far the most romantic and atmospheric place to stay. The powerful Orthodox church has protected the town, and the whole island, from mass tourism: licences for bars, hotels and restaurants are almost impossible to procure and only the wealthiest and most well-connected ever succeed in purchasing property on this mystical isle. There's no airport, and the ferry from Athens takes at least seven hours; so Patmos should remain a safe haven for spiritually inclined purists for a few centuries more.

Best hotels for couples on Patmos: Housed in a 17th-century mansion, Archontariki has just five rooms with original stone archways, beamed ceilings and pebble courtyards overlooking the Aegean. And Onar Patmosoffers six self-contained houses above the bay of Grikos, all of them simple, traditional and wonderfully relaxed.
Find out more about Patmos, the most spiritual Greek island
Source: cntraveller.com