Ableached-out Greek island hangout with a beach-club atmosphere; an 18th-century castle in the Loire Valley already making waves with its vineyard; a slick spa hotel in Italy's outdoorsy Dolomites; a glossy food-focused hotel in a surprising Polish city – the best new hotels in Europe are better than ever.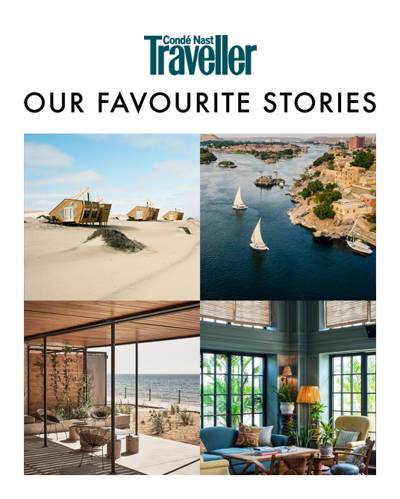 Sign up for the Condé Nast Traveller newsletter to receive our editors' picks of the latest and greatest in travel – from our insider city guides to the most exciting new hotels in the world, as well as amazing holiday competitions.
by entering your email address, you agree to our privacy policy
Read on for the complete list of the hottest new hotels in Europe, as chosen by the editors of Condé Nast Traveller.
THE BEST NEW HOTELS IN THE UK
September, drawing in locals and staycationers who downed chilled wine on its beach-bar terrace and watched paddle-boarders scull past from the restaurant and brasserie – a twin-decked rotunda whose ceiling resembles a carousel tent. It's the first volley from the newly formed Signet group, set up by Hector Ross and Ronnie Kimbugwe who met while working at the Bel and The Dragon inns and, partly inspired by the success of Robin Hutson's Pig hotels, intend to resuscitate other tired properties around the country. The Mitre dates back to 1665 when Charles II was frolicking across the road, and used to house overspill from the palace – which only has 1,390 bedrooms, after all – but in recent years it had languished in dusty doldrums. Some of its contents were rescued by designer Nicola Harding, who styled The Rose in Deal and Beaverbrook's upcoming Sloane Street address. Now Jazz Age squiggles, seaside stripes, botanical Ottoline wallpapers and storybook illustrations flow around the higgledy-piggledy building; a seance-like library here, a garden conservatory there. In a city where there are frustratingly few places to properly connect with the Thames, this is a burst of gaiety – Peter Blake meets the Henley regatta. Messing about on the river in the best sense. By Rick Jordan
FLASH POINT James Martin's family have been hiring out row boats since the Victorian era and will ferry one over for an afternoon's drifting, accompanied by a mini hamper from chef Kimbugwe's kitchen. Doubles from £180.
BOOK YOUR STAYTake a look inside The Mitre, the hottest new hotel on the ThamesInside The Mitre, the hottest new hotel on the ThamesPLACES TO STAYInside The Mitre, the hottest new hotel on the ThamesADAM LYNK
hotel, this place is on a mission to reinvent the members' club. Just 30 minutes from London's Liverpool Street station and designed with stressed-out urbanites in mind, it's a co-working space of sorts – but with a pottery studio as well as beekeeping, glass-blowing and wood-whittling classes. Really setting it apart from anything else out there, though, is the fact that everyone is welcome (there are no membership-committee hoops to jump through). Renovations at the Georgian Theobalds Estate in Hertfordshire have been painstaking – tiles, cornicing and artworks have been uncovered and new murals commissioned. The result is some seriously striking interiors: a wood-panelled drawing room turned cinema is kitted out with striped deckchairs and a moon-like orb is suspended from the ceiling above the Majorelle-blue grand staircase. The bedrooms, by contrast, are a little basic, so make sure to ask for one in the main mansion where original details keep things interesting. Local families spread out on the grand lawn while media types stretch in wild yoga classes before heading to the bakery to roll their own Marmite swirls. Irish chef Robin Gill, known for his London restaurants Bermondsey Larder and Sorella, is responsible for all things foodie. His tasting menu at the Zebra Riding Club is pulling visitors to Birch all on its own – take a tour of the vegetable garden and on-site farm via delica-pumpkin tartlets and venison kofta. This is a next- generation escape you can get to with just an Oyster card. By Tabitha Joyce
FLASH POINT The lido, set to be glorious, is due to open soon for chiringuito-style pool parties. Doubles from £150; membership from £120 per month.
BOOK YOUR STAY
Read more here